British Abrasives Federation (BAF) Accredited Abrasive Wheel Training.
Our Abrasive Wheel Training Courses are: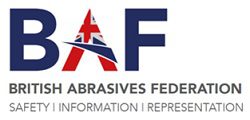 British Abrasives Federation (BAF) Accredited.
Delivered by our own Accredited Instructors (who are machine operators).
Tailored to Suit the Specific Machines that you use.
Courses Available:
Angle Grinder.
Petrol Cut-Off Saw.
Floor Saw.
Chop Saw.
Bench/Pedestal Grinder.
Precision Grinding.
If you use more than one machine type, then we can teach any combination of the machines listed above.
The abrasive wheel training course that you require needs to be relevant to your operators and the types of machines that they use.
Our abrasive wheel training courses are delivered by expert instructors who have decades of teaching experience between them and they are also experienced abrasive wheel machine operators.
Our abrasive wheel courses will create awareness of the hazards associated with working with abrasive wheels.
We will also provide you with advice and recommendations on making sure that your use of abrasive wheels is as safe as it can be.
Please tell us at the time of booking which abrasive wheel machines you use so we can ensure that the training you receive is relevant to the machines that you use.