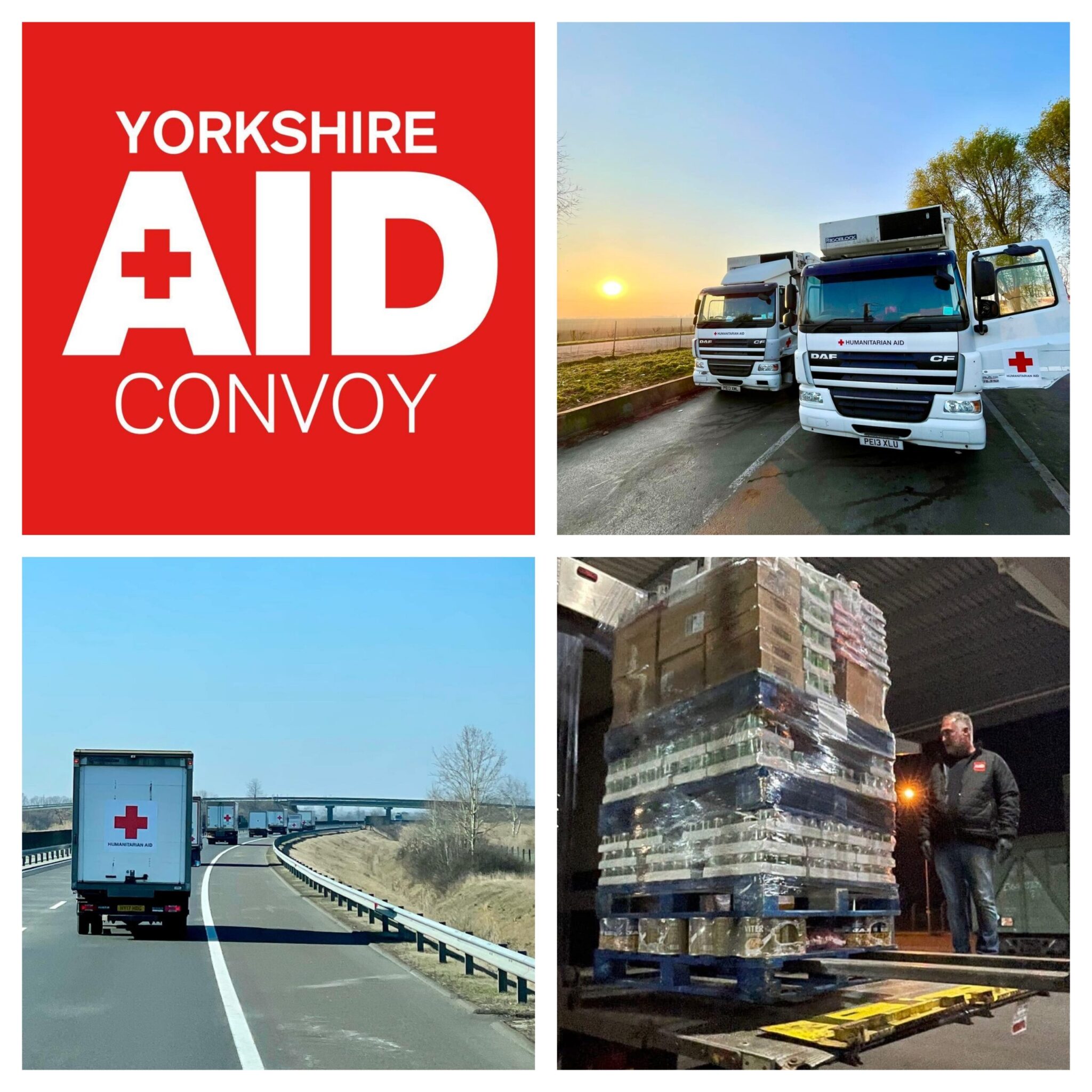 12 Apr

Donate to Ukraine Convoy

On 8 April TTS agreed to donate to a Ukraine Convoy. For many of us, watching the harrowing events unfold in Ukraine, has made us feel helpless. For the last 2 months, at TTS, we have tried to see we can help make a difference. Last week, Dave Wood – one of our Directors found an amazing local charity called Yorkshire Aid Convoy.
Who are Yorkshire Aid Convoy
This charity has been delivering humanitarian aid to The Ukraine and Romania for over 20 years. Run by volunteers, 100% of the money goes to the charity. People from all walks of life give up their time to help Yorkshire Aid Convoy. The charity liaises closely with local organisations and charities on the ground in The Ukraine and Romania. This ensures it delivers the type of support and donations most appropriate. In The Ukraine links with Caritas and the Rotarians guarantee that donations reach their destination safely. Due to the level of local knowledge and on-going visits, the Ukraine Convoy can deliver what is needed, where it is needed.
TTS Donation
Last week we decided we wanted to donate one of our mobile units. Truck 2 as it has been known, is relatively easy to use. As well as having a powerful onboard generator, you just pull up and drop down the steps. So we want to donate this vehicle. We met 2 of the amazing trustees of Yorkshire Aid Convoy – Mark Murphy and Gary Dooley last week. They are grateful for our donation. Since then, we have learnt our mobile unit will be utilised as a mobile medical unit. Dave (my husband/fellow Director) and his brother Richard, volunteered to take the truck in the next convoy on 28th April.
Can You Donate To The Ukraine Convoy?
It is humbling to make this donation. However, the cost to transport the mobile unit will be approximately £2,000. So we are asking our lovely contacts if they can donate to Yorkshire Aid Convoy. It would be amazing if we could take the mobile unit and cover the cost to the charity. The charity are taking 8 trucks of humanitarian aid in total, so every penny counts. You can make a donation directly to the charity by visting our Just Giving page: https://www.justgiving.com/fundraising/mobiletts
Aid Required
In addition to taking the mobile unit, we want to fill it with much need aid. To donate to the Ukraine convoy we are asking for donations of basic medical equipment (not medicines). Ideally we need first aid kits, bandages, nitrile gloves, type IIR masks etc. If we donate a mobile medical unit it would be amazing to fill it with the basics to get them started.
The next Ukraine convoy departs in just over 2 weeks. In addition to basic medical supplies Yorkshire Aid Convoy are appealing to individuals and businesses for donations of:
Foods – tinned, dried
Baby items – nappies, wipes
Hygiene products
Folding beds, matrasses
Bedding, blankets, pillows,
Disposable tableware,
Powerbanks, walkie-talkies, batteries
Ideally any donations to the Ukraine convoy should be new boxed items by the carton/pallet. This will make it easier to transport and reduce the loading/unloading time at each end.
Mask Sales
In addition to the truck donation we have recently been fundraising with the sales of our most popular mask. The Alpha Solway 2530v mask is being sold in our online shop. 100% of the net sales are being donated to Ukraine. These amazing FFP3 disposable masks are sold with you choosing what donation to make (minimum £20 per box). Any donations made will be added to the Just Giving page and will be donated to Yorkshire Aid Convoy. Our team will be joining the convoy and will see first hand exactly where your donations go. If you are looking for masks, why not visit our online shop and know your purchase will make a difference. Buy online today.
In memory of Trish
Sadly back in December 2021, just after Christmas, we lost my mother-in-law to long covid. For those of you that don't know, Training and Testing Services is predominantly a family business. The sudden loss of Trish was felt across the company – she was mother to 5 children and 3 of them; Dave, Richard and Mark all work for TTS. Dave and Richard will be making the journey to Ukraine. With this in mind, before the truck leaves us, it will be named Trish, after this remarkable lady.
Dave told me his thoughts behind naming the truck after his mum:
Mum devoted her whole life to looking after others, including her 5 kids!!

Running playgroups along with Aunty Yvonne (not our real Aunty). Working as a childminder, looking after handicapped kids for days at a time to give their parents a break. Then working as an auxiliary in the RVI in Newcastle. After this she worked on the secure units at St Nick's (and others). And finally, working in old peoples homes until she finally retired.

I think it is only right that we name the truck after her. I hope it can achieve a tiny fraction of what she did in her life time. She would be horrified by the suffering of the brave people of Ukraine.

To get Trish and the other 7 trucks of aid to where they are needed is expensive. It will cost approximately £2000 per truck. We need your help to achieve this. Please donate whatever you can.
Just Giving
If you are unable to donate goods please feel free to make a donation directly to the charity. To donate or read all about our story visit our Just Giving Page: https://www.justgiving.com/fundraising/mobiletts
We understand that times are hard at the minute. So if you can't donate, please share our story and the Just Giving link. If everyone shared our story we stand a great chance of reaching our target. We want to cover the costs of transport. We would love to provide the much needed aid required to fill the 8 vehicles on the next journey. Alternatively, time is a great donation. If you can volunteer to loads trucks before the journey this would be amazing.
Feel free to contact me: [email protected] for any help you can give. Thank you for your support it means the world.