11 Oct

Face Fit Train the Tester Scotland

Welcome to our Face Fit Train the Tester Scotland Blog.

PLEASE NOTE: DUE TO THE CORONAVIRUS THIS COURSE IS NOT CURRENTLY RUNNING. IF YOU ARE WILLING TO TRAVEL WE RUN THIS COURSE AT OUR PREMISES IN NORTH YORKSHIRE.

We have been working behind the scenes recently on our open course venues. We are often asked to conduct training in the Scottish Borders, Highlands and beyond. Whilst our training manager Dave likes a ride out into the beautiful Scottish countryside, being based in North Yorkshire means that he regularly travels hours to conduct training on behalf of companies. But what about those who only have 1 or 2 trainees? Or those who aren't being trained on behalf of a company? Well, we now have the answer!

Our popular Face Fit Train the Tester course is offered in North Yorkshire, South London and now, in Scotland.

We are working in partnership with Holiday Inn to be able to offer our training in the Glasgow/Strathclyde area. Which means anyone looking for face fit testing train the tester in Scotland we can help. We do still offer on-site/private training and we can arrange a date or time to suit you on your site/premises for groups of up to 8 trainees.
Face Fit Train the Tester Public Course
All our face fit train the tester courses are conducted by a fully qualified fit2fit accredited fit tester. This ensures that you receive the highest level of training and our service does not just stop once you have left the training room. We are always on hand to offer post training advice and support for all our customers.
For those who do not yet have one, we also sell our own face fit testing kit at a discounted rate to anyone attending our public course. Booking onto our open courses is simple, all you have to do is click on the link and you can book onto our open course in Scotland. We also run these courses in North Yorkshire and South London.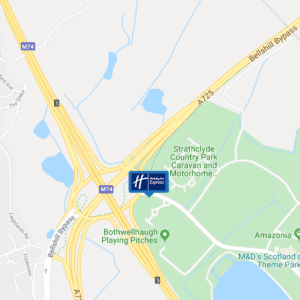 The Hotel sits in peaceful Strathclyde Country Park. Having been recently refurbished the hotel is located in rural Scotland and trainees will enjoy free WiFi, free parking, refreshments and lunch on the training day.
Chosen for its close proximity to Glasgow, Edinburgh and surrounding areas, the location of this hotel makes it easy to get to. The hotel is just off the M74 motorway and close to the M8, within easy reach of Glasgow Airport  (approx. 25 minutes away) and Edinburgh Airport (EDI) (approx. 45-minute drive).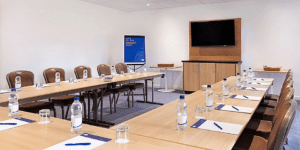 Our first face fit train the tester Scotland date has been set for November, so hurry and book your place online. More dates will be scheduled to take place in the coming months. Should you have any queries or would like further information on our courses please do not hesitate to contact us and we will be happy to help.