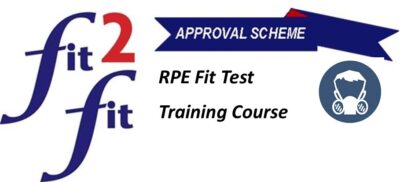 01 Sep

Choosing the right training course for face fit testing

We have seen a huge increase in demand for respirator face fit test training over the past few months.

This increase in demand started back in February, when it became apparent that we were facing a pandemic from Covid 19.

The NHS did not have the capacity for face fit testing it's staff. So, we, along with other companies, set to work to train up as many of their staff as possible.
Equipment
When the country went into lockdown in March, the situation rapidly changed. Supplies of face fit testing equipment were depleted.
There was no point in training anybody else to carry out face fit testing, there was simply no kit to test with.
For the next few months we managed to muddle through as face fit testers. Using what supplies we had left, what we managed to beg & borrow, what limited supplies the NHS had. It got so bad that the MOD had to step in to manufacture the testing solutions.
Once we started to move out of lock down the equipment supplies started to slowly improve. Although some people saw fit to sell £150 face fit testing kits on ebay for £800 +. Now as we move into September, the supplies of face fit testing kits are nearly back to normal.
The demand for face fit testing training has increased again thanks to a reasonable supply of testing kits and supplies of masks improving slightly.
So how do you choose the right training course for face fit testing?
Face Fit Testing
Face fit testing should be carried out by a competent person (HSE INDG479). The HSE have listed 16 points of competence for face fit testers.
The fit2fit fit test providers accreditation scheme was developed by BSIF (British Safety Industry Federation) with support from the HSE. Fit2fit accreditation is a vehicle for fit testers to prove that they are competent.
It is not compulsory to be fit2fit accredited for face fit testing. However, the tester must be competent. Commercial fit testers should be fit2fit accredited, otherwise how can they prove that they are competent to do the job properly?
There is no short cut for fit2fit accreditation. You can't attend a course and then be accredited. You have to be trained, gain experience, submit yourself for accreditation, then pass a theory exam and a practical exam to prove that you are competent.
The training courses that are offered by training companies are a train the tester course, not a train the trainer course.
If you have never conducted face fit testing before, how could you reasonably expect to attend a 1-day course and then believe that you are competent enough to teach this to other people?
We have been face fit testing for the best part of a decade now. We have teaching qualifications. Our trainers attended training courses for qualitative and quantitative testing. We have been taught to advanced level by the HSE Laboratory in Buxton. The team have gained experience, we are fit2fit accredited testers and our training course is fit2fit approved.
All of this is what makes us competent to deliver face fit testing train the tester courses.
There are lots of courses available, but you need to make sure you choose the right one:
Online Course
There are a lot of companies out there who will offer you an online course for face fit testing, how do you teach the practical element over zoom, teams etc.?
Don't get me wrong, the theory element could potentially be taught online, but not the practical element, this needs to be done in a proper classroom environment.
Half Day Course
Some training providers will offer a half day training course. So the 16 points of competence and the practical element is taught in 3.5 hours? This simply is not possible. If you do a half day face fit testing course, you might be saving time, but the course is completely worthless.
Fit2Fit Accredited Tester
The training is conducted by a fit2fit accredited tester, the tester is accredited for carrying out a face fit test not delivering a training course.
The fit2fit accredited tester has proved that they are competent at carrying out face fit testing but are they delivering the correct training? There is no scrutiny of the course content that they are providing.
Fit2Fit Approved Training Course
The fit2fit approval scheme requires the course content to be submitted to fit2fit so it can be scrutinised to ensure that what is being delivered is fully compliant with the HSE's guidance and protocols.
The approved course also must be delivered by a fit2fit accredited face fit tester.
The fit2fit approved courses offer the highest possible standards of face fit testing training. The course is delivered by a competent, accredited, face fit tester. The course material has been checked by industry experts to prove that it is fully compliant with the law.
To ensure that you receive the highest possible standard of face fit testing training use a fit2fit approved training provider. Otherwise, risk wasting your time and money by using 1 of the other options above.
For more details of our services please feel free to contact our friendly team who will be happy to assist.