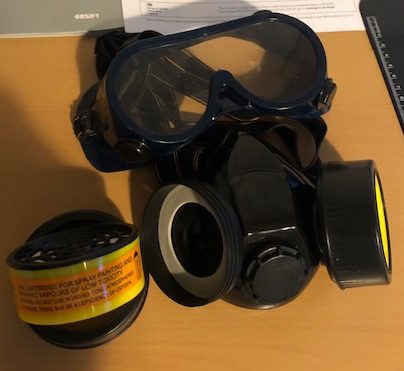 24 Apr

PPE & RPE Selection

Recently I conducted an on site abrasive wheel training course, during the course I noticed a mask and goggle set in the customers workshop, which looked remarkably like a kids toy.

I quickly realised on closer inspection, that neither the goggles or the mask had a CE (European Standard Mark) on them. Legally if product is to be used in the workplace all PPE & RPE must be CE compliant. This needs to be considered when looking at PPE selection.

In order to meet the appropriate European standard, all PPE must be correctly tested and certified. Unfortunately, the quantity of non-approved product being sold into the UK is on the increase. Such products should not be used for business because they contravene safety legislation.

This mask and goggle set was sold by Amazon to a business customer and the packaging clearly states that it is "Industrial Safety Equipment" so therefore implying that it is fit for work purposes.

PPE Regulation (EU) 2016/425: This new rule introduction sees new PPE Regulations that became enforceable as of April 2016. These new rules that are active in the UK and throughout Europe make the last set of PPE regulations passed back in 2002 obsolete. It is crucial that all employers are up-to-date on their training and understanding of these new regulations.

Every piece of PPE must be sold along with a Declaration of Conformity which states that the piece of equipment being sold conforms to safety standards set forth in the new PPE Regulations (EU) 2016/425 before being put on the market. This declaration must be issued by the manufacturer or by the person placing the product on the market. Documentation is good for 10 years after being issued and put onto the market.

You don't have to look too hard on the internet to find a large quantity of poor quality, cheap, non compliant PPE & RPE, however I believe that it is time for large companies such as Amazon to stop this rubbish from being sold to businesses and also to individuals for home use.

Also PPE selection must be made by competent people, after the justification for its use has been made through the risk assessment process.

Speak to your supplier if you are in any doubt about what you need as they are there to help you make the right decisions.

We are proud to be a member of BSIF (British Safety Industry Federation). BSIF is the lead association for the Personal Protective Equipment (PPE) Directive and is recognised as a Competent Authority by the Health & Safety Executive (HSE). The BSIF has active links with many government departments and over 130 representative Trade Bodies.

BSIF has created the Registered Safety Supplier (RSS) scheme, companies displaying the scheme's logo have signed a binding declaration that the safety equipment they offer meets the appropriate standards, fully complies with the PPE regulations and is appropriately CE marked. So when looking at PPE selection, it is advisable to use a Registered Safety Supplier.

All Registered Safety Suppliers are independently audited to confirm compliance with the scheme's requirements. Remember, by using a Registered Safety Supplier you can be sure you will only be supplied with genuine, appropriately approved product and you will receive sound advice without any attempt to mislead you.